Welcome to Ecologic Divers!
We are the premier dive center on Ambergris Caye, Belize. Check out the rest, and then dive with the best!
Ecologic Stuff
We are now selling our line of Ecologic Divers t-shirts and other stuff on our web site, Ecologic Stuff. Check out our original designs, and look for more good stuff from Ecologic in the future!
Welcome to Ecologic Divers!
Simply the best PADI Dive Center on Ambergris Caye!
Ecologic Divers is a premier PADI Five Star Dive Center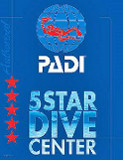 located in San Pedro, Ambergris Caye, Belize. Our PADI Divemasters and Dive Instructors are friendly, helpful, courteous and professional. They are committed to making your diving entertaining, exciting, and most importantly, a safe experience.
Check us out on Trip Advisor and see what our guests are saying about us. You will see that we have happy, satisfied divers and guests.
Please check out the rest, and then dive with the best!
The Ultimate Blue Hole Dive Trip
Travel in style and comfort aboard our new Blue Hole dive boat!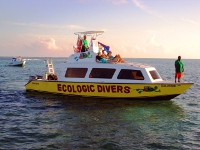 Are you looking for the ultimate Blue Hole diving experience? Do you want to dive with small groups? Do you want to travel in comfort in an enclosed cabin with cushioned seating, an on-board restroom, and a fresh water shower?
We think our new Blue Hole dive boat, "Blue Attitude", fills the bill! We have determined the following facts about trips to the Blue Hole:
Divers do not want to travel to the Blue Hole on the "cattle boats" offered by our competitors carrying up to thirty divers or more. Divers want to dive in small groups -- our boat carries a maximum of twelve divers.

Divers do not want to be herded like sheep with one Divemaster leading up to fifteen divers as do other dive shops. We have a strict limit of six divers per Divemaster at the Blue Hole. It is all about keeping our divers safe on a fairly difficult dive.

At each dive site, it takes a lot of time to get thirty divers in and out of the water. This means that the big dive boats are always rushing their guests in order to return to San Pedro at a reasonable hour. With our smaller dive groups, our trips are more relaxed allowing additional time at each dive site.
To find out more, or book your Blue Hole dives on "Blue Attitude", call us at 1-800-244-7774, 011-501-226-4118 or contact us via email!
Our Recently Certified Divers
From May 13, 2013 to May 18, 2013...
According to PADI statistics, we certify more divers on Ambergris Caye than any other dive shop. As of January 1, 2013, Ecologic Divers has certified 1,525 divers, and in 2012, we certified 236 divers.

Name: Barbara M.
Home: San Antonio, TX
Cert: Open Water Diver
Date: 05/18/2013
Inst: William Johnson



Name: Matthew M.
Home: San Antonio, TX
Cert: Open Water Diver
Date: 05/18/2013
Inst: William Johnson 



Name: Susana A.
Home: Sidney, MT
Cert: Open Water Diver
Date: 05/18/2013
Inst: William Johnson  



Name: Prasra G.
Home: White Plains, NY
Cert: Open Water Diver
Date: 05/15/2013
Inst: William Johnson



Name: Mariko W.
Home: Seattle, WA
Cert: Open Water Diver
Date: 05/15/2013
Inst: William Johnson



Name: Jason H.
Home: Seattle, WA
Cert: Open Water Diver
Date: 05/15/2013
Inst: William Johnson



Name: Allan O.
Home: White Plains, NY
Cert: Open Water Diver
Date: 05/15/2013
Inst: William Johnson



Name: Summer L.
Home: Woodinville, WA
Cert: Open Water Diver
Date: 05/15/2013
Inst: William Johnson



Name: Nathan L.
Home: Woodinville, WA
Cert: Open Water Diver
Date: 05/15/2013
Inst: William Johnson



Name: Becca W.
Home: Boulder, CO
Cert: Advanced Open Water
Date: 05/15/13
Inst: William Johnson



Name: Robert A.
Home: Denver, CO
Cert: Open Water Diver
Date: 05/15/2013
Inst: William Johnson



Name: Julia S.
Home: Lexington, KY
Cert: Open Water Diver
Date: 05/13/2013
Inst: Nef Lemus