Welcome to Ecologic Divers!
We are the premier PADI dive center on Ambergris Caye, Belize.
Header Content Region
Insert text, image or banner ads here, or just delete this text and leave this area blank!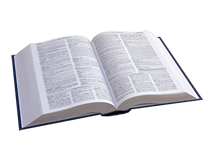 Primary Tagline

Ecologic Stuff
We are now selling our line of Ecologic Divers t-shirts and other stuff on our web site, Ecologic Stuff. Check out our original designs, and look for more good stuff from Ecologic in the future!
Welcome to Ecologic Divers!
Simply the best PADI Dive Center on Ambergris Caye!
Ecologic Divers is a premier PADI Five Star Dive Center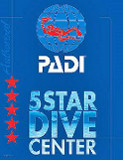 located in San Pedro, Ambergris Caye, Belize. Our PADI Divemasters and Dive Instructors are friendly, helpful, courteous and professional. They are committed to making your diving entertaining, exciting, and most importantly, a safe experience.
Check us out on Trip Advisor and see what our guests are saying about us. You will see that we have happy, satisfied divers and guests.
Please check out the rest, and then dive with the best!
Please help protect our reefs and our wildlife!
We discourage our guests from touching the reef coral or any wildlife on their dives. A number of dive shops allow their guests to touch the wildlife, especially the ever present nurse sharks. Some of their divemasters go so far as to wrestle with these sharks; however, this is not only stressful to the animal, but harmful to their skin.
On the other hand, we do support the spearing of lionfish. This invasive species was introduced into the Caribbean waters in the 1980's. They are prolific feeders on our reef fish population and as such, it is necessary to keep them in check.
We value our reef and our wildlife, and want to do everything we can to protect this very special dive and vacation destination.
The Ultimate Blue Hole Dive Trip
Travel in style and comfort aboard our Blue Hole dive boat!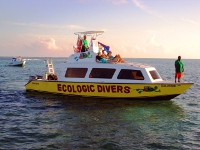 Are you looking for the ultimate Blue Hole diving experience? Do you want to dive with small groups? Do you want to travel in comfort in an enclosed cabin with cushioned seating, an on-board restroom, and a fresh water shower?
We think our Blue Hole dive boat, "Blue Attitude", fills the bill! We have determined the following facts about trips to the Blue Hole:
Divers do not want to travel to the Blue Hole on the "cattle boats" offered by our competitors carrying up to thirty divers or more. Divers want to dive in small groups -- our boat carries a maximum of twelve divers.

Divers do not want to be herded like sheep with one Divemaster leading up to fifteen divers as do other dive shops. We have a strict limit of six divers per Divemaster at the Blue Hole. It is all about keeping our divers safe on a fairly difficult dive.

At each dive site, it takes a lot of time to get thirty divers in and out of the water. This means that the big dive boats are always rushing their guests in order to return to San Pedro at a reasonable hour. With our smaller dive groups, our trips are more relaxed allowing additional time at each dive site.
To find out more, or book your Blue Hole dives on "Blue Attitude", call us at 1-800-244-7774, 011-501-226-4118 or contact us via email!
Our Recently Certified Divers
From November 6, 2013 to December 7, 2013...
According to PADI statistics, we certify more divers on Ambergris Caye than any other dive shop. As of January 1, 2013, Ecologic Divers has certified 1,525 divers, and in 2012, we certified 236 divers.
Tina S.
Beaumont, Texas
Open Water Diver
12/10/2013
Renee F.
Baltimore, Missouri
Open Water Diver
12/08/2013
Mark K.
New York, New York
Open Water Diver
12/08/2013
Tina H.
Redondo Beach, California
Open Water Diver
12/02/2013
Amanda B.
Cambridge, Missouri
Open Water Diver
12/01/2013
Tim W.
Cambridge, Missouri
Open Water Diver
12/01/2013
Julian S.
Edmonton, Alberta Canada
Open Water Diver
11/27/2013
Angela J.
Calgary, Alberta Canada
Open Water Diver
11/27/2013
Jonathan G.
San Francisco, California
Open Water Diver
11/18/2013
Ian B.
London, England
Open Water Diver
11/07/2013
Danial L.
London, England
Open Water Diver
11/07/2013
Jennifer H.
Boise, Idaho
Open Water Diver
11/06/2013